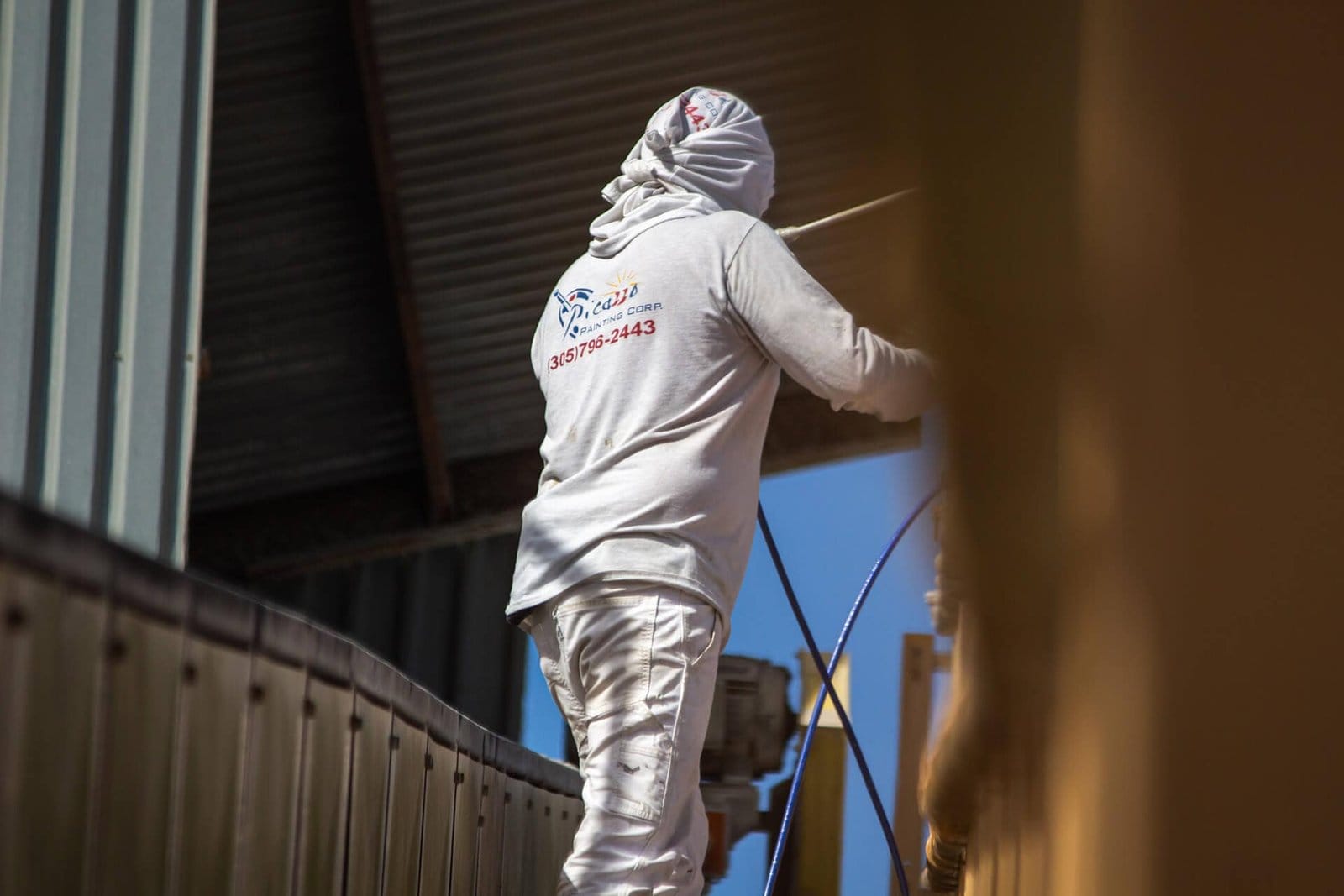 We love each of our customers, but we have too many reviews to post here! 
If you'd like to see more reviews, you can ways look directly at our Google My Business, where we have dozens of more reviews! See All Reviews. 
Very professional, excellent, quality work. Highly recommend his services
Hired jorge to paint my 2 story house. Pretty excellent experience from beginning to end. If you're looking for a painting contractor in Miami, I would have to say he's probably the best I've ever worked with. After having 8 painters give me quotes, it was obvious that Picazzo was the most experienced and professional of them all. If I could go back, I'd hire him again, and be delighted.
Jorge and his crew painted my house in Kendall and just finished painting about 3 days ago. The entire house was painted in less than a week, and everything came out great. Highly recommend him if you're looking for a painting contractor in Miami.
Best painting contractor in Miami! Just finished painting my house with Picazzo, and everything came out beautifully. They were responsible, consistent, dependable, professional, and meticulous. Everything came out perfectly painted, clearly within bounds. No paint fell on my floors, they covered all my furniture and cleaned up perfectly right after. If I had left and come back a week later, I would have found my house completely painted with everything exactly where it was, to begin with. Highly professional. Highly recommend.
Easily the best painter in Miami. I hired Jorge for a pretty quick job, just needed to have my driveway pressure washed, painted, and sealed. He came in person for the quote, was very nice and extremely punctual. After that, he got the official quote to me in a couple of hours. I felt good about the company, their reviews, his experience, and the price, so I decided to sign the contract and get to work. Glad I did. Jorge was extremely professional and understanding. He even took the time to pass by once after the work was finished to correct some damage that was caused by falling leaves. Great company, highly recommend.
I hired Jorge to do a complete pressure cleaning of my home. He ended up doing some roof cleaning, driveway pressure cleaning, pool deck pressure cleaning and even did some light pressure cleaning of my house without peeling off any of the paint. Truly one of the most professional contractors that I've ever worked with. As a property manager, I've worked with dozens of contractors, from small companies to large companies, and Picazzo painting and pressure washing has to be one of the best companies that I've worked with. I'm going to be hiring Jorge to do many more painting and pressure cleaning projects for me in the near future. If that's not a testament to how well he and his staff worked, then I don't know what is. Absolutely fantastic experience in a city full of terrible contractors.
Hired Picazzo to come in and perform some maintenance on my commercial shopping center. I've worked with them for a couple of months now, and everything has been absolutely great. When you hire them for commercial pressure cleaning, they have a policy where you can sign multi-month contracts and receive a better rate per wash, than if you paid on a wash-by-wash basis. I highly recommend them. I signed a 6-month contract with them, and I've completely taken care of the washing side of property maintenance. I don't have to worry about calling them every month when it's time to come in. They always reach out a couple of days before and let me know that they're planning on coming by and confirming when the best time to pass by would be. If you're looking for commercial pressure cleaning in Miami, these guys are easily the best. I've tried a bunch of other pressure cleaning companies and the quality, professionalism, and pricing does not compare to these guys. I highly recommend these guys for commercial maintenance
Excellent job done. I hired these guys to do some roof cleaning on my property, and the process couldn't have been any smoother. I worked with the owner of the company, Jorge, and he was extremely punctual, extremely professional, and very organized. I needed him to come in quickly, on the same day that I called, and he was able to squeeze me in to his schedule and pass by and get the job done on the same day. Couldn't have asked for a better job or a better professional. If you're looking for pressure cleaning in Miami, this is the GO-TO company.
I've worked with a couple of different pressure cleaning companies in Miami, and all of them have either left my property dirty, or they've shown up super late and were completely unorganized, or they were just asking for hundreds more than everyone else. I just finished working with Jorge on a roof pressure cleaning job and I can't be any happier. He came in and gave me a quote, cleaned my roof, and even took pictures of everything and showed it to me. One of the most professional pressure cleaning contractors I've ever met. If you're looking for a pressure cleaning company in Miami, don't look any further. Hire these guys.
I just had jorge and Picazzo painting come in for some roof pressure cleaning. I live in an HOA that gives out fines for dirty roofs, so it was extremely important for me to find someone to come in and do a good, fast job. Jorge came in on the same day and left my roof looking brand new. I couldn't recommend him more, it was a completely fantastic experience. If you need someone to clean your roof, these guys will come in and do a fantastic job, I recommend them.
Hired Jorge and his team for some roof pressure cleaning. They came in, cleaned my roof, and were out within 2 hours and everything came out perfectly. I had quotes from other companies, but I decided to go with Picazzo even though the price was a little higher because of just how professional and organized they were. I definitely don't regret that decision. They were very knowledgeable and they deep cleaned my roof with low pressure and some chemicals and left my roof perfectly clean, with absolutely no shingle damage. Fantastic service, give these guys a try for any pressure cleaning job in Miami, you won't regret it.
The pressure cleaners and painters in Miami from this company were amazing. I needed a pressure clean on my pavement and a pressure cleaning and rooftop cleaning, and not only did i not have complaints on quality, the time it was done in was phenomenal. The painting they did was incredible and i have no complaints. Would recommended to anyone.
Jorge and his team were incredible. Very competitively priced, Dedicated, professional, thoughtful, on time and always with a smile I would strongly recommend them to any homeowner or business
Extremely profesional and excellent customer service. Jorge is very reliable, cordial, and puntual. Jorge is a true professional who delivers great work in a timely manner. We'll be using Picasso Painting again and highly recommend them to anyone looking for a job well done at a reasonable price.
Very detail oriented, and provided excellent service
Picazzo Painting painted my house 16 years ago. That tells you a lot about the quality of his work. He just painted it again and the house looks new all over again. So pleased with his professionalism and the way that he handled this job. I would definitely recommend him to anybody.!!!
Showed up on time from Day 1 to the end of the painting job. My house looks brand new now. I couldn't have asked for a better job. I strongly recommend Picazzo Painting.
Picazzo Painting is a very professional pleasantly business, very punctual, very meticulous to the point of perfection and very very clean in his job. I recommended him 100%.
Picazzo brought in an efficient, professional crew. They painted my 4 bedroom house in 4 days. They constantly cleaned dust as they went so it was easy for me to clean afterwards. When they moved things, they placed everything right back to the correct spot. Most importantly, Picazzo took initiative and fixed several of my broken doors and repaired areas of my walls that were imperfect. I was extremely pleased with the overall result and nightly recommend this company.
Excelente customer service, very puntual, finish the job in time, very detail. Happy to hired Picazzo, I recommend it 100%. My house looks amazing. For a reasonable and affordable price.
(Translated by Google) The best of the best I apply a sealer very good price I recommend it The best good job, responsible, price affordable (Original) Lo mejor de lo mejor me aplico un sealer muy buen precio lo recomiendo The best good job, responsible, price affordable
We have worked with Picazzo Painting on several projects and we are always very happy with their work. From beginning to end, Jorge the owner and his team are careful, considerate and experts at their craft. Choose them and you too will be delighted with their work!