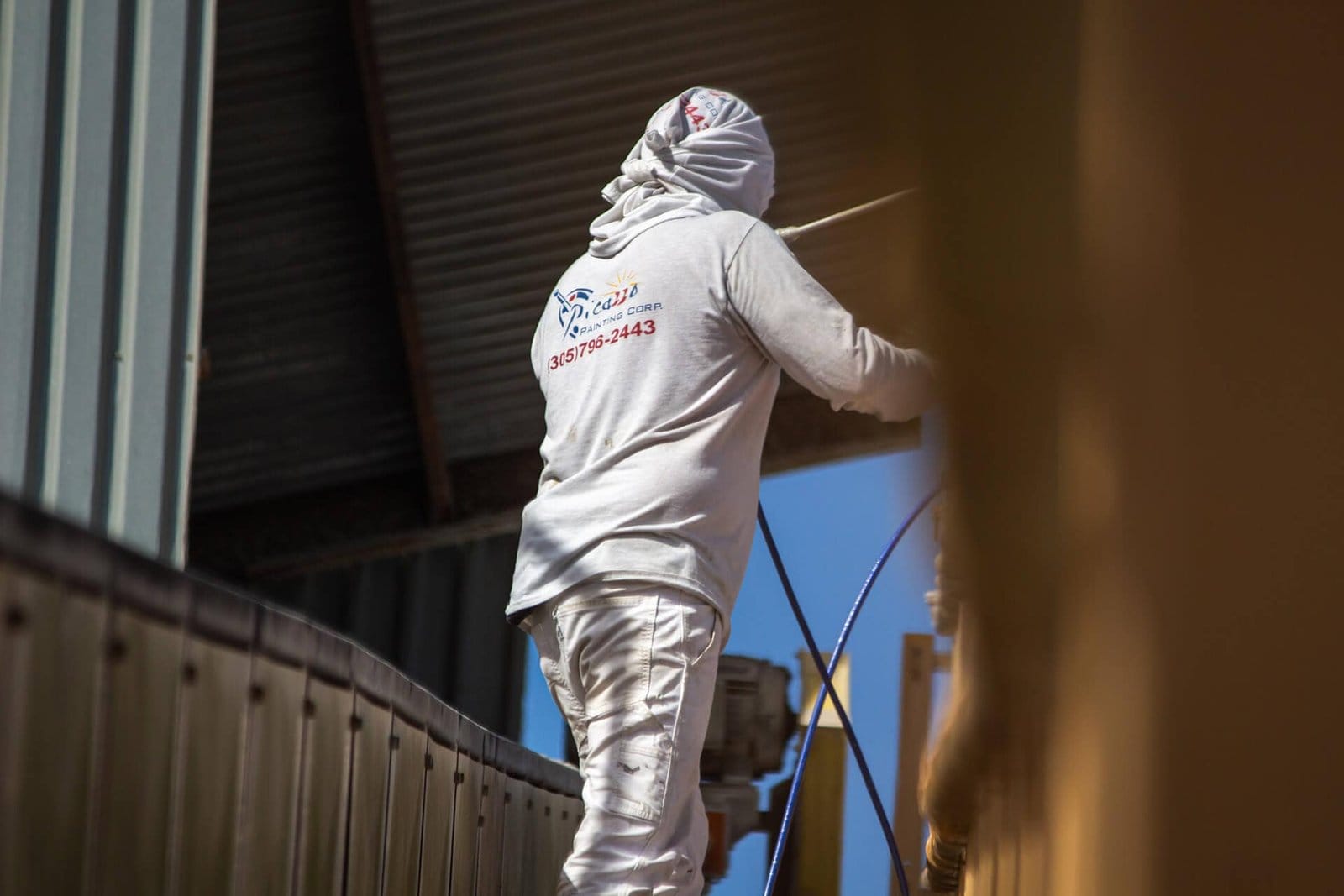 Miami - House Painting FAQs
Have any other questions not answered here? Contact us directly and we'll be happy to help.
Quick Navigation – FAQ Categories
Painting Estimate Questions
Paint and Paint Brand Questions
Interior Painting Questions
Our Company Questions
Exterior Painting Questions
Painting Estimate Questions
Q: How can I get an estimate?
A: To request an estimate from us, you have 2 options:
Fill out the online form,

here

Give us a call directly at, (305) 796-2443
If you fill out the form, you can expect someone from our team to get back to you within 24 hours, but it's often way quicker than that. If you submit a quote request before 5 pm EST, you can expect a call back the same day. 
Q: What happens during an estimate? 
A: During all estimates, we'll do a complete walkthrough through the project, and make sure we understand what you're looking for, and also provide recommendations on how to best complete the job- including preparations, repairs, coatings, and more. After that, we'll typically go to work on estimating the cost of the project. Depending on the size of the project, you can expect to have your quote within 1-7 days.
Q: I requested a couple of different bids and your bid was one of the most expensive, why is that? Also, how can I know that the price I'm getting is fair? 
A: Each company has its system, costs, and processes that are factored into each quote. For us, we take into account our systems and understand the quality of work that we deliver. For example, these are some of the things that we offer that most, especially cheaper contractors, don't offer:
 

Our 5 Year Warranty

– We're so confident in our process and the work that we suggest to our customers, that we can confidently offer a 5 Year warranty. Not only are we confident in the offering, but we've never had a single customer call us to claim the warranty.

We've never had any issues. 
The average repaint cycle is 10-15 years –

Clients that work with us will typically be completely satisfied with their painting project for over 10 years. In fact, when we show up to repaint the home, it's often due to cosmetic reasons, not durability. We finish projects the right way, the first time.

Our work lasts for years.
Total prep and cleanup are included –

Whether you have furniture or not, we take care of everyone's property. Not only that, but once we leave, we make sure to leave everything as we found it- completely clean.

We really don't leave until you're satisfied –

We mean that. This mentality is how we've managed such a high rate of referrals and reviews. We don't leave your property until you're perfectly satisfied. Have a problem with how something came out? We'll do some additional touch-ups until you're satisfied. Don't like the color? We'll work out another quote to get it repainted. Once we're committed to your project, we follow it through until total completion.
Q: Are Quotes Free? 
A: For the vast majority of jobs, yes, quotes are totally free. However, some projects, especially commercial projects, may require much more detailed and rigorous quoting processes. In some cases, we will charge $25 for a complicated commercial quote, just to ensure that the commercial property owners will truly consider our bid. However, in most cases, our quotes will be completely free. 
Q: What do you need to know during an Estimate? 
A: Our process is pretty straightforward, but there are a couple of things you should be totally sure of when we come in for a quote:
Know exactly what you want to be painted. If you're unsure about certain portions of a job, we'd be happy to give recommendations, or we can even create two separate quotes, pricing them out individually. 
Questions About Our Company
Q: How long have you been around? 
A: Picazzo Painting and Pressure Washing has been around for over 25 years now. Back then it was just Jorge Lara and a truck, but that company has since grown to feature many different employees, trucks, and hundreds of happy customers (many of which come back 2,3,4, and even 5 times). 
Q: Are you licensed and insured? 
A: Of course! Our license number is: 04BS00058
We're also insured up to $5m in liability insurance, including over a million in actual property damage insurance. We've worked on homes in the most regulated communities, and haven't had a single problem. 
Q: Do you hire low-skill workers or contractors from Home Depot?  
A: Absolutely never. We've worked hard to build the reputation that our company has, and there's a reason why we receive over 70% of our work from referrals and repeat customers- we take care of them. If we were to hire low-skill workers, it would be easily noticeable and our work and complaints would speak for themselves. 
Every single one of our workers is trained extremely well and will deliver the quality of work that is typical and expected of Picazzo Painting and Pressure Washing. 
Paint and Paint Brand Questions
Q: What paint do you recommend?  
A: This can vary greatly from project to project, especially in commercial/industrial settings, where special coatings are required. 
However, here are the most common paints we use for most residential and commercial projects: 
Supplier: Sherwin Williams
Interior Residential – SuperPaint Flat/Satin finish (Depends on the surface)
Interior Commercial – ProMar 200 Zero VOC (highly cost-conscious paint with great durability)
Exterior Residential – SuperPaint Flat finish (or A-100 for most competitive pricing)
Exterior Commercial – A-100 for most cases (SuperPaint for customers that want a little more durability)
Over our 25 years of experience, we've found the SuperPaint to be the most reliable and durable paint for the price. While other paints, such as the Emerald line, are much better paints, their quality, and improved durability do not justify the dramatic increase in cost. 
With our application process, you can expect your SuperPaint to last over 7 years, easily. 
Q: What Sheen Do you Recommend?  
A: This really depends on the area of application and the general use case, for example:
Flat Finish – Great for areas of low wear and tear, because flat paint does not hide stains or dirt very well- it's also not very cleanable. 
Eggshell/Satin – This finish is a lot shinier than flat/matte, but it comes with the added benefit of increased maintenance potential. Wiping down satin paint will typically clean it right up.
Semi-Gloss – Extremely cleanable, but very shiny as well. We highly recommend this paint for all high-use areas. For example, most trims and doors will be finished in Semi-Gloss so that they be extremely dirt and wear-resistant, as well as be easily cleanable. 
Q: Do you use any supplier other than Sherwin Williams  
A: While we love to use Sherwin Williams for its ease of application and durability, and our competitive pricing (which translates to cheaper estimates for customers), we will use whatever paint you prefer. 
Residential Painting Questions
Q: Do I have to be home during the painting? 
A: Nope. We always have a supervisor on-site, and the owner is typically also on job sites- either working or supervising. We always check in daily and make sure that you're aware of any progress. Honesty and transparency are very important to us, we'll take care of your property as if it were ours.
Q: What hours do you work? 
A: Most often, we prefer to start work around 7 am, and we'll work until around 3 pm. However, the actual work time can vary greatly, and we'll work to meet all requests. We have no problem working overnight, or staying late into the evening. We try to make your project as painless as possible, and that includes working at the times that work best for you.
Q: Do you recommend always using a primer on repaints?  
A: Simply put, yes. But this depends on the quality of the previous finish, the location of the wall ( bathrooms definitely need a primer), and your budget. However, in order to qualify for our 5 Year Workmanship Warranty, we do require that our customers follow our top recommendation- this ensures the maxim durability for the finish. 
Commercial Painting Questions
Q: Do you have the team to handle large projects, quickly? 
A: We certainly do. Not only do we have a large enough team, but every single one of our members is highly trained and is capable of delivering elite-level finishes to any project. We don't rely on a "master-painter" to take care of all of the work while the others simply prepare surfaces. We built a great team that can easily, quickly, and effectively deliver a great finished project. 
More questions and answers are being constantly added. However, if you have any questions that you did not see here, please reach out to us and we'd be more than happy to help.