Waterproofing solutions that increase structure longevity and prevent water from leaking into your home and causing damage. 
Do You Have A Waterproofing Project We Can Help With?
Waterproofing is a great way to increase the longevity of your roof and building. There are many different ways and structures that you can waterproof- your roof, windows, concrete wall, basement, and decks. In Miami, Florida with the high levels of humidity and rain, the most common areas that require waterproofing are the roof, walls, and windows.
Picazzo Painting and Pressure Washing has been serving South Florida for over 25 years with waterproofing services. If you're looking for waterproofing services in Miami, we're your go-to company.
Do you need waterproofing?
Typically waterproofing is a fantastic option for anyone that wants to just get a little more out of their roof. Unfortunately, a lot of the time when property owners decide that they want to approach waterproofing for a roof, they're experiencing some level of leakage and their roof is definitely on its last legs. It doesn't have to be this way. The best time to waterproof a roof is definitely right away, especially for commercial properties.
However, chances are that you need a waterproofing job done if you have water leaking into your property and don't want to replace a roof. You also need waterproofing done if the water is leaking in through windows, doors, or there's moisture in the walls.
What is Waterproofing?
Waterproofing is a process that involves applying an additional layer, or multiple layers, of protection to a roof that prevents any water from coming back in. Thankfully, the process can be applied relatively quickly, depending on the scale of the project. This quick application can have an almost immediate impact on leaks, especially if you're experiencing heavy rain or heavy leaks inside the property.
One of Our Waterproofing Case-Studies
Before Waterproofing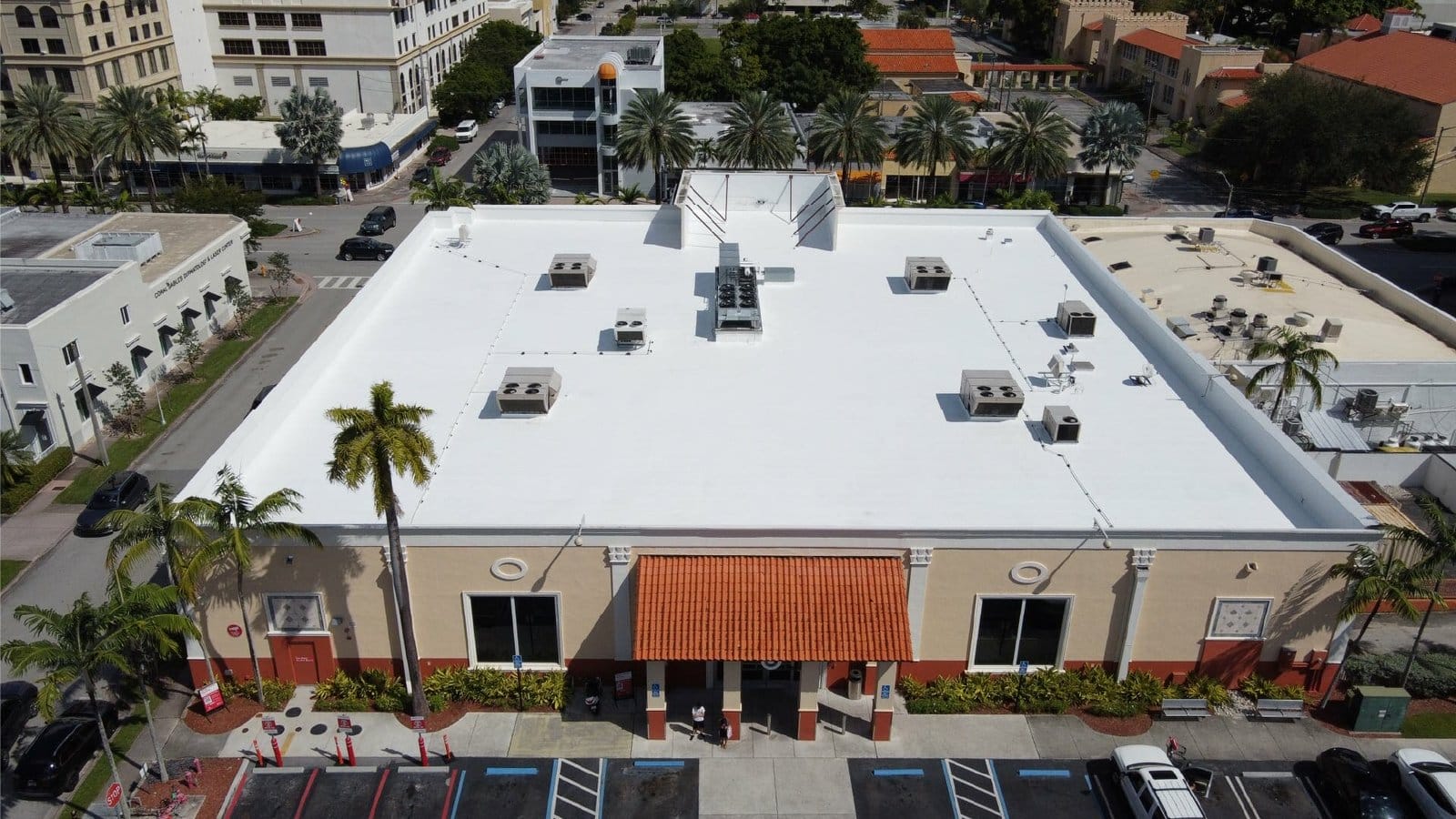 After Waterproofing
Six Benefits of Waterproofing
Waterproofing is a great option for many property owners looking for cost-effective solutions to water leaks.
Longevity

Installing waterproof membrane can protect your roof from any additional damage that can be caused from water build up and wind. In other states, it's effective enough to protect the property from snow and ice, but thankfully we don't have to deal with that here in Miami. The membrane and waterproofing coatings also help to protect the roof from intense heat and can light. Typically, applying a waterproofing coating with Picazzo Painting and Pressure Washing will last you around 10 years, extending the lifetime of your roof.

Cost-Saving

Really the best aspect of waterproofing is the cost-saving aspect. Simply put, waterproofing your home means that you won't have to go out and pay for an expensive re-roofing. Also, the membrane and waterproofing solution that is applied will cover and protect the roof, which will also prevent you from needing to repair the roof.

Energy Efficiency

Waterproofing applications tend to be completely white and reflective which is great for keeping heat and energy costs down. Especially for commercial properties, you'll definitely see your HVAC costs come down in the summer with a professionally installed waterproofing membrane. 

Lower Humidity

Waterproofing in Miami will have a very big impact on the amount of internal humidity. Humidity inside your home is extremely important, especially in Miami, because the higher the levels of humidity, the more likelihood some kind of mold starts to build up. 

Low Maintenance

It's much easier and requires much less maintenance to protect and uphold a waterproofing coating than it is to keep up with a brand new roof. Whenever any kind of maintenance is required, it's typically super easy to come in and repair any of the waterproofing membrane, and it's much cheaper than it would be to repair a new roof. 

Easy Installation

Installing a waterproofing solution is much easier than installing a brand new roof. This is great news for someone that's currently experiencing any level of leaks or water damage within their house. Not only is it much easier to get a brand new waterproofing installed, it's also much more cost effective. This means that the realistic turn-around time between getting a quote and actually getting the waterproofing done is much faster than the process for actually getting a new roof installed. 
Wai-Han Chan
Amazing communication. Punctual. Professional. Reasonable prices. And beautiful results. Couldn't ask for a better! Definitely recommend!!
Mary Ann Diaz
Maravilloso y preciso trabajo de pintura en mi casa! La calidad es increíble y el servicio fue muy amable. Recientemente compré una casa nueva y no pude estar en casa para verificar el progreso del trabajo de pintura, así que estaba preocupado porque no pude verificarlo y estaba muy satisfecho con el resultado final. ¡Se lo recomendaría a cualquiera que necesite pintar su casa!

Jorge Silva Fraga
(Translated by Google) The best of the best I apply a sealer very good price I recommend it The best good job, responsible, price affordable
(Original) Lo mejor de lo mejor me aplico un sealer muy buen precio lo recomiendo The best good job, responsible, price affordable

Nathalie Regalado
Picazzo brought in an efficient, professional crew. They painted my 4 bedroom house in 4 days. They constantly cleaned dust as they went so it was easy for me to clean afterwards. When they moved things, they placed everything right back to the correct spot. Most importantly, Picazzo took initiative and fixed several of my broken doors and repaired areas of my walls that were imperfect. I was extremely pleased with the overall result and nightly recommend this company.
Prestige Pools of South Florida
Excelente customer service, very puntual, finish the job in time, very detail. Happy to hired Picazzo, I recommend it 100%. My house looks amazing. For a reasonable and affordable price.

Magaly Duarte
Excelente trabajo de parte del Senor Jorge! De verdad que son muy amable y me dejaron la casa bien aseada despues que terminaron de pintar. Gracias por todo!

Shirley Sastre Souto
We have worked with Picazzo Painting on several projects and we are always very happy with their work. From beginning to end, Jorge the owner and his team are careful, considerate and experts at their craft. Choose them and you too will be delighted with their work!
Viviana Ruiz-Sanchez
Picazzo Painting painted my house 16 years ago. That tells you a lot about the quality of his work. He just painted it again and the house looks new all over again. So pleased with his professionalism and the way that he handled this job. I would definitely recommend him to anybody.!!!