Residential Painting Services
Interested in painting your home? No matter how complex or easy the job may be, Picazzo Painting wants to help turn your ideas into a reality.
Thinking about painting? Get A Free Quote On Your Project Today!
Residential Interior Painting Services
What Interior Services Do We Provide?
Don't see something you need done for your house? Give us a call at 305-796-2443, we'll let you know if we can get it done for you.
Residential Exterior Painting Services
Exterior Painting Services
Surface Types We Paint and Stain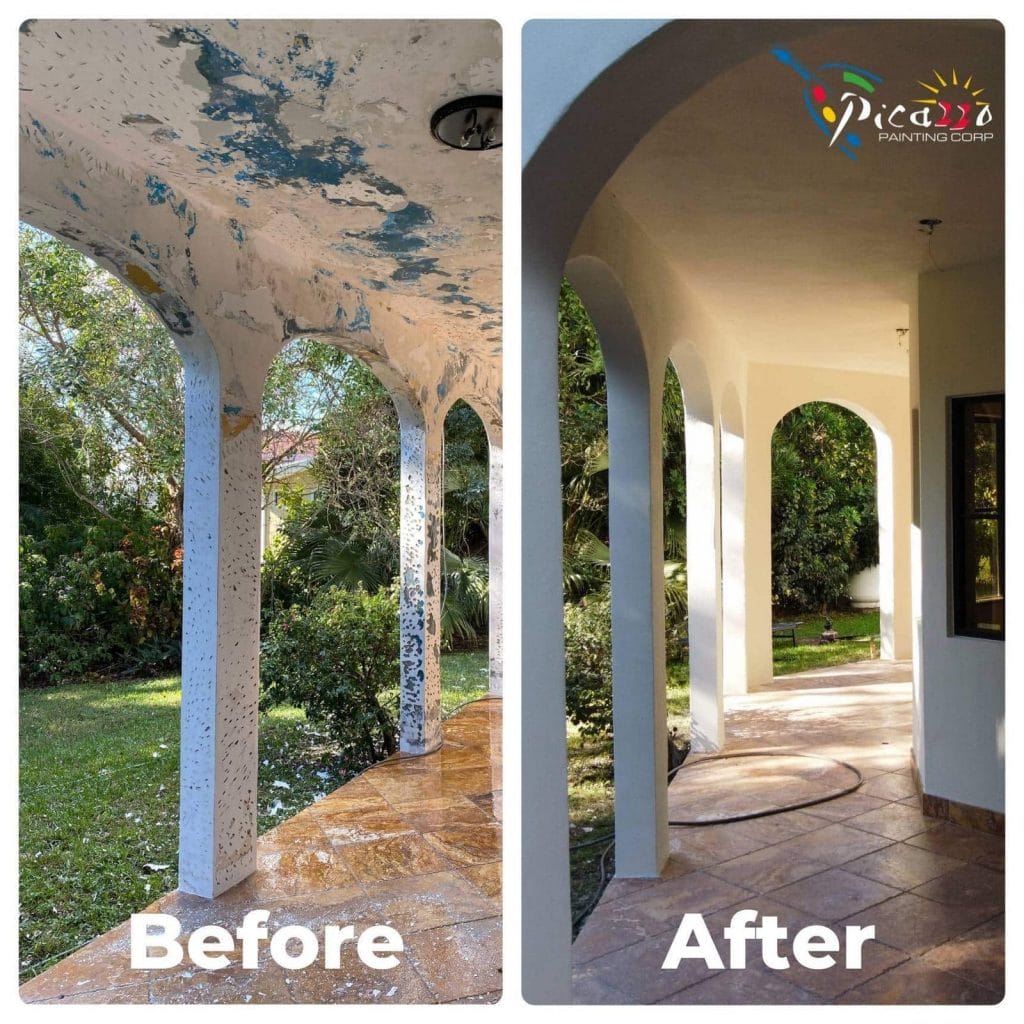 Some of Our Recent Residential Work
Are you looking for a painting contractor in Miami? Painting your house can be one of the most stressful things a homeowner can do. After-all, with so many unqualified painters out there, choosing the right painting contractor can be challenging. Solving that problem is exactly why Picasso Painting and Pressure Washing was created. Professionalism is our priority, and we've been serving Miami with interior and exterior painting services for over 25 years with exceptional results. 
If you're looking for interior or exterior painting in Miami, Doral, Coral Gables, Pinecrest, Kendall, or anywhere in South Miami then we have you covered. Like I mentioned, what really sets us apart is our dedication and passion for completing projects that our clients will love. 
For many of our clients, a painting project is a huge deal that will define a different experience for their home, help increase the value of her home, or increase curb appeal. A new coat of paint can turn a depleted, dirty looking home into a lively property with tons of value. We've all seen some homes that look super outdated, and just undesirable but when they get completely repainted all of a sudden the home stands out as one of the best and nicest in the neighborhood. 
Whatever your reasons are for getting a painting professional, choosing Picazzo Painting and Pressure Washing means having the confidence that you're hiring someone with years of experience and hundreds of satisfied customers. No matter how small, large, easy, or complicated your project is, we're here to guide you through it and make sure that your ideas become a reality.
What Sets Us Apart?
If you're tired of dealing with irresponsible contractors that never hold up their end of the deal, then you've finally found who you're looking for. At Picazzo Painting and Pressure Washing we have a couple of core principles that we live by:
We're Always 5 minutes early.
Operate honestly
Keep our end of the deal
The job isn't done until the client is delighted.
We Think It's Pretty Simple.
Wai-Han Chan
Amazing communication. Punctual. Professional. Reasonable prices. And beautiful results. Couldn't ask for a better! Definitely recommend!!
Mary Ann Diaz
Maravilloso y preciso trabajo de pintura en mi casa! La calidad es increíble y el servicio fue muy amable. Recientemente compré una casa nueva y no pude estar en casa para verificar el progreso del trabajo de pintura, así que estaba preocupado porque no pude verificarlo y estaba muy satisfecho con el resultado final. ¡Se lo recomendaría a cualquiera que necesite pintar su casa!

Jorge Silva Fraga
(Translated by Google) The best of the best I apply a sealer very good price I recommend it The best good job, responsible, price affordable
(Original) Lo mejor de lo mejor me aplico un sealer muy buen precio lo recomiendo The best good job, responsible, price affordable

Nathalie Regalado
Picazzo brought in an efficient, professional crew. They painted my 4 bedroom house in 4 days. They constantly cleaned dust as they went so it was easy for me to clean afterwards. When they moved things, they placed everything right back to the correct spot. Most importantly, Picazzo took initiative and fixed several of my broken doors and repaired areas of my walls that were imperfect. I was extremely pleased with the overall result and nightly recommend this company.
Prestige Pools of South Florida
Excelente customer service, very puntual, finish the job in time, very detail. Happy to hired Picazzo, I recommend it 100%. My house looks amazing. For a reasonable and affordable price.

Magaly Duarte
Excelente trabajo de parte del Senor Jorge! De verdad que son muy amable y me dejaron la casa bien aseada despues que terminaron de pintar. Gracias por todo!

Shirley Sastre Souto
We have worked with Picazzo Painting on several projects and we are always very happy with their work. From beginning to end, Jorge the owner and his team are careful, considerate and experts at their craft. Choose them and you too will be delighted with their work!
Bobby Nunez
GET A FREE ESTIMATE TODAY!